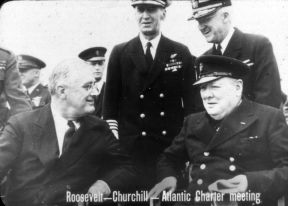 On chapters XXIIV and XXIV of "The Grand Alliance", the Atlantic Charter is presented.
This meeting was of great importance for a narrower definition of relations between the United States of America and the British Empire, defining key points in the relation of these two great powers in a direct and personal way. So far, the relationship between Winston Churchill and Roosevelt were made ​​only by letters, where Churchill identified himself as "Former Naval Person".
The meeting was held at sea in extreme secrecy. The President Rooselvet was formally resting on a cruise. On sea, he transfer to the
cruiser Augusta
, leaving his yacht.
On the second day, the Prince of Wales encountered heavy seas, remaining two options: slow down or dropping the destroyer escort. Admiral Pound gave the decision, entering in a high speed zone.
Without the escort, in a sea infested by U-Boats, the battleship had to perform several diversions, keeping a radio silence status.
This gave Mr. Churchill a lot of free time, something completely different in his routine.
For the first time for many months I could read a book for pleasure. Oliver Lyttelton, Minister of State in Cairo, had given me Captain Hornblower, R. N., [C. S. Forester], which I found vastly entertaining. When a chance came I sent him the message: "I find Hornblower admirable". This caused pertubation in the Middle East Headquarters, where it was imagined that "Hornblower" was the code-word for some special operations of which they had not been told.
W. S. C. The Grand Alliance. Page 382